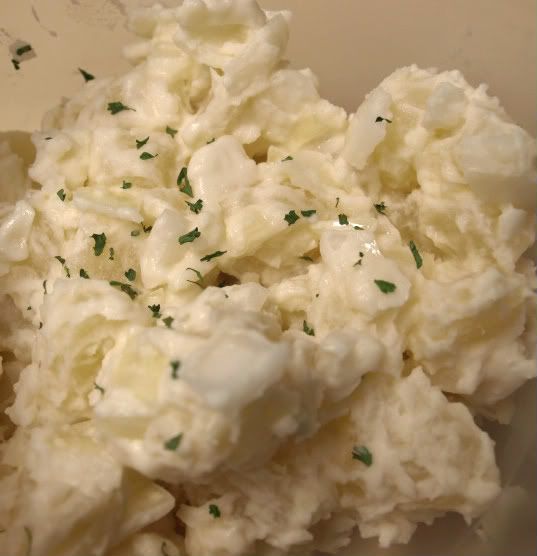 Honey (as referred to by half of her grandkids) makes the best potato salad I've ever had. Maybe I'm biased because grandparents always seem to do everything better.
What do you do when you have a bag of potatoes about to go bad? Call up your grandmother for her famous recipe. And of course she responds with: some of this, a little bit of that; no real measurements here.
Well I tried it out last night. And of course it didn't come out as well as when she makes it, (but hey it's still pretty delicious; I think I'd feel sacrilegious if I could make it taste just as good), and of course I forgot to measure anything for when I blogged about it. But here's my loose recipe:
Cook the potatoes. I used 3-4 medium sized potatoes which made an ok sized batch, I might use more next time. The potatoes will cook faster if you chop them up first; I did about half-inch cubes. Boil them for about 10-15 minutes, until they are soft enough to put a fork through, but not too soft that they crumble. Strain them and let them cool for 5-10 minutes so they are still warm but not too hot. (Not sure what this is for but it's what I was directed to do.) Chop up some onion, I used about 1/2 of a vidalia onion, and put it in a large bowl with your potatoes. Stir together potatoes, onion, oil and vinegar. I really can't tell you my measurements. If I had to guess, I'd go with 1-2 tbsp of oil and maybe 1/4-1/3 cup of vinegar. Just pour on some vinegar, give it a taste and add more as necessary. When everything is fully mixed, add about 1 tbsp of mayo and sprinkle with parsley. Chill before serving.
Not only is this potato salad delicious but I also love that there is barely any mayonnaise. I am a huge fan of all summer sides: potato salad, cole slaw, macaroni salad; but there's always SO much mayo. This recipe barely needs it, so it's a lot healthier than most. Good luck on competing with a grandmother when making this one!